SHARRON WILLIAMS FLEET
Artistic Director, Co-Founder, Owner
Associate Diploma CSC-CICB, Ceccetti Society of Canada, Cecchetti International
MSDTA Scottish Dance Teachers Alliance
September 30 , Sharron Williams Fleet received the 2011 Arts and Culture Award. This individual award is given to those who have demonstrated exemplary achievement in the field of Arts and Culture and extraordinary commitment to furthering Arts and Culture in Collingwood. Article and Pictures click here.
In addition to the adminstrative planning and operation of Fleet-Wood Dancentre, Sharron teaches the pre-professional A Stream program, and the Cecchetti Exam program. In 2003 she was also nominated as Teacher of the Year, followed by two nominations for Business of the Year in 2010. Sharron also enjoys custom sewing all the recital costumes for the students, so each will receive the perfect fit, and a treasure to keep.
Sharron Fleet is an accomplished choreographer and teacher. She has taught highland, ballroom, jazz, theatre dance, modern and Cecchetti ballet for over 35 years. She holds her Member Degree from the Scottish Dance Teachers Alliance of Scotland, and her Associate Diploma in Ballet with the Cecchetti Society of Canada, Grade 8 Piano and Grade 2 Rudiments with the Royal Conservatory of Music, and Y.W.C.A. Fitness Leadership Certificate. Sharron is a member of the Cecchetti Socity of Canada. (www.cecchetti.ca). She was also a member of the Ontario Branch of the Cecchetti Society of Canada serving as Editor of the "Enrico Review"for many years.¨Sharron is also an avid disciple of Irene Dowd, neuromuscular specialist who holds a private practice in New York City, and a faculty member of the acclaimed Julliard School (Fame). Sharron travels yearly to study with Dowd at the Teachers Intensive Summer School held at the National Ballet School, Toronto as well as Canada's yearly Cecchetti Ballet Teacher's Seminar. Sharron is currently advancing her teaching credentials to that of Licentiate.
While teaching in B.C. her students danced at Expo '86 at the Plaza of Nations and the B.C. Pavilion. Her students won many awards with the BC Music Festival as well as two provincial championships. In 1990 she moved to Ontario and joined forces with Jane Wooding in 1994. Her family has chosen Wasaga Beach as their retirement home.Sharron performed professionally in Victoria B.C. She has also studied and been inspired by teachers from Merce Cunningham, Luigi, Dance Theatre of Harlem, Les Ballet Jazz, Alvin Ailey, The National Ballet School, the Royal Winnipeg School and The Toronto Dance Theatre. Student Teena Walker, graduated from Toronto Dance Theatre in 1996 and performed with Kaeja Dance,Toronto, Ontario. Most recently two of her former students, Lauren O'Neil White and Rachel Prince performed at the Opening and Closing Ceremonies of the Olympics in Vancouver.Sharron's choreographic experience in Musical Theatre includes Grease, The Wizard of Oz, Fiddler on the Roof, Tom Sawyer, Reflections on Crooked Walking, Moonshot, Coming of Age, and Theatre Collingwood's Some Enchanted Evening, The Last Resort, Unsung Cole and Nunsense I and II, I Do I Do and Side by Side Sodheim.
JANE WOODING
FISTD - Artistic Associate, Co-Founder
National Ballet of Canada
The National Ballet School of Canada
Cecchetti Examiner, FISTD
Jane Wooding and Sharron Fleet joined forces to open Fleet-Wood Dancentre in 1994.   For eight years their partnership shaped the development of Fleet-Wood's mandate, and yearly traditions of the Christmas Living Windows and biannual Nutcracker.
Jane Wooding was born in Ottawa, Ontario. She graduated from Canada's National Ballet School in Toronto in 1970, and went on to study in England, Holland and Germany. Entering the National Ballet of Canada in 1972, Jane performed Romantic, Classical and Contemporary repertoire, working with such exceptional mentors as Celia Franca, Karen Kain, Veronica Tennant, Erik Bruhn, Rudolf Nureyev, and Mikhail Baryshnikov.
Joining the National Ballet School staff in 1978, Jane taught ballet, repertoire, pointework and pedagogy for 8 years. She also rehearsed young dancers for National Ballet of Canada's Nutcracker from 1979 until 1992, including two months in Tokyo and Osaka, preparing Japanese students for the Company's tour of the Orient.
Now teaching in Halifax, Jane has taught at The National Ballet School, Sean Boutilier, Quinte Ballet School of Canada, York University and George Brown Dance, teaching ballet, pointework and repertoire. A popular guest teacher, Jane has also taught for the Royal Winnipeg Ballet School, L'Ecole de danse de Quebec, Dance Teq, Dance Fuzion, Boston Ballet Summer School, Balletmet Summer School in Columbus, Ohio and is a founding Co-Director of Fleet-Wood Dancentre in Collingwood, Ontario.
Ms. Wooding is a Fellow and an Examiner for the Imperial Society of Teachers of Dancing, Cecchetti Faculty. Past Chair of the Ontario Branch, Jane was elected to the National Executive Council of the Cecchetti Society of Canada serving from 2000 – 2005.
In 1997, Jane received the Paul Harris Fellowship Award for outstanding community service in the Collingwood area. She is an Advisor to the Muskoka Ballet Scholarship Fund, and has served on the Board of the Blue Mountain Foundation for the Arts.
JONATHAN FLEET
Senior Teacher
Jazz, Ballet
Competition
George Brown College, Dance Performance Studies & Early Childhood Education, E.C.E. 
Intermediate Cecchetti
Jonathan Fleet is a Senior Teacher at Fleet-Wood Dancentre. His training includes ballet, jazz, modern, contemporary, contact improv, and theatre dance. Jonathan graduated from George Brown College Dance Preparation Program and The Early Childhood Education Program.
He attended The Quinte Ballet School of Canada's summer schools in 2001, and 2002 studying jazz with Anne Marie Wood, and ballet with Frank Augustyn, Joyce Shietze, Gizella Witkowsky, and Brian Scott. He holds his Intermediate Cecchetti Ballet Certificate, 2004 now studying at the Advanced One Level. Jonathan has been a Senior Teacher at Fleet-Wood Dancentre since 1999, working with the pre-professional students in jazz technique as well as beginner classes for ages 3 and up. During his many years at Fleet-Wood Dancentre, he has enjoyed dancing the role of The Nutcracker Prince for several productions. In 2003-2004 and 2014-2015 Jonathan received additional intensive training at George Brown College and Dance Teq in Toronto studying jazz, ballet, modern, and voice from a variety of teachers including National Ballet of Canada Kevin Pugh, Glenn Gilmour, jazz with Derek Sangster, Timothy Spain, Stephen Findley, and Vicky St.Dennis. Jonathan has passed the written exam for the Level One Fitness Instructors Course and is also a Level One Ski Instructor with the Canadian Ski Instructors Alliance
COLIN ECCLES
Ballet
Conditioning
Competition
EssentricsTM
Pianist/Teacher : Bc. of Music (Honours)
Colin began dancing when Fleet-Wood opened its doors in 1994 and graduated from the studio in 2007, having completed the Intermediate and Advanced One Cecchetti Ballet exams with Jane Wooding and Sharron Fleet. In addition to A-Stream classes, he also studied Scottish Country and Highland dance with Lois Musselman. He holds an Honours Bachelor of Music degree from McMaster University with a focus on Theory, Composition, and Collaborative Piano, and has completed the RCM Grade 10 piano exam. Colin is currently pursuing his Associates standing with the Cecchetti Society of Canada under the supervision of Evelyn Finlayson-Kelly of the Bracebridge School of Ballet. Additionally, Colin is also a Level 3 Instructor of EssentricsTM, a full-body stretch and strength program suitable for all ages, which draws on disciplines such as ballet, modern dance, yoga, Tai chi, and physiotherapy exercises to improve posture and prevent atrophy.
SIERRA MARAJ-FLEET
George Brown College, Dance Performance Studies
Acro, AcrobaticArts
Accomplished:  Intermediate Cecchetti Ballet
3rd Degree Black Belt
Sierra is a graduate of three year Dance Peformance Studies Diploma, George Brown College Dance, 2014 – 2016 with training in ballet, pointe, contemporary, modern, jazz and vocal.   Summer of 2016 she achieved Acro Accreditation with AcrobaticArts.  As a full time instructor she teaches competition solos, duets, trios and groups in addition to recreation and the pre-professional classes in Collingwood.  Sierra graduated from Collingwood Collegiate Institute in June 2012. She studied dance at Fleet-Wood Dancentre from a young age graduating in 2013.     Sierra spent the summer of 2012 teaching at Fleet-Wood's summer camp and attending advanced classes in hip hop and jazz in Toronto.   She joined the teaching staff in 2013.  Sierra's dance training achievements include Cecchetti Intermediate ballet, jazz, pointe, contemporary, hip-hop, and modern. Sierra has danced many roles in Fleet-Wood's  productions of The Nutcracker.     Sierra also holds a 3rd Degree Black Belt from the Collingwood Martial Arts Centre.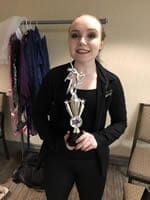 PAIGE NANCEKIVELL
TAP TEACHER
Paige Nancekivell is a Senior Student at Fleet-Wood Dancentre studying Cecchetti ballet, modern, contemporary, jazz, and pointe.   Paige studied tap with Melissa Mills and now teaches the beginner and intermediate programs.  She enjoys competing and now studies tap with Gen Fullerton  (http://genfullerton.com)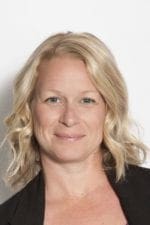 STEPHANIE HALDANE
BALLET TEACHER
Dance has always been a passion for Stephanie. Stephanie began dancing at the age of 3 and never
looked back. She studied ballet, jazz and tap through the Canadian Dance Teachers Association syllabus
and achieved her Advanced Certificates with Honours in both Ballet and Jazz. Stephanie also studied dance during High School as a Dance Major at Cawthra Park Secondary School in Mississauga, On. There she studied many dance forms including ballet, modern, contemporary and African to name a few. In 1999, she also did a year at York University in the Fine Arts Dance Program before transferring to Western to continue her studies in Kinesiology.
GEORGIE DONAIS, Alumni
Modern
The School of Toronto Dance Theatre
Fine Arts Degree
Major in Dance Performance
Georgie Donais trained at The School of Toronto Dance Theatre and holds a Fine Arts degree with a major in dance performance. Projects included a reconstruction of Doris Humphrey's Two Ecstatic Themes: Circular Descent. She has trained with such renowned teachers as Peggy Baker, Julia Sasso, Pat Miner, Anna Blewchamp, Sarah Chase and Michael Trent, and has taken workshops with notables such as Irene Dowd and Risa Steinburg. Her musical training and experience is varied and extensive, and she has performed in places as varied as a university pub in Cleveland to the Phoenix Concert Theatre in Toronto. She sang the soprano part in Pergolesi's Stabat Mater as accompaniment to her own choreographic work, Mother Was Standing. Georgie's training in aerial arts has included teacher training with Elsie Smith-Fornichon of New England Center for Circus Arts. She spent a decade designing Canada's national dance magazine The Dance Current, and is currently associate art director for OUR HOMES magainze based out of Collingwood. Georgie lives with her family in Thornbury, where she teaches dance and aerial silks through mutablearts.ca.
ELIZABETH LOUGHEED, Alumni
George Brown College, Dance
Owner: Miss Liz, Belleville, On.
Senior Associate Elizabeth graduated from George Brown College's Dance Program in 2000 with a Diploma in ballet, modern, jazz, voice, and dance pedagogy. She returned to teach full time at Fleet-Wood and implemented a modern program. An accomplished dancer and performer she danced her whole life taking years of classes with Jane Wooding and Sharron Fleet. Her training also includes scottish and folk with Lois Musselman. She holds her Intermediate Certificate in Cecchetti ballet.
Elizabeth is known for her emotional choreography as show cased in many Fleet-Wood Recitals. She has danced the role of "Snow Queen" for many Fleet-Wood Nutcracker performances and is returns as choreographer and performer every two years.   Elizabeth teaches all levels of classes in addition to the pre-professional ballet and modern programs. She was promoted to "Associate" in 2004 as a senior member of the Artistic Staff. Ms. Lougheed Brown moved to Trenton in the summer of 2010 but continues to teach at Fleet-Wood as a Guest Teacher.  She presently operates her own studio in Belleville, On "Dance with Miss Liz".
Signup for our newsletter to get the latest updates
Location
Fleet-Wood Dance Centre
65 Simcoe Street, Suite 6
Collingwood, ON, L9Y 1H7