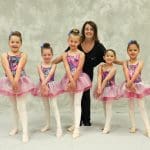 Children's dance classes in Collingwood are available Saturday Mornings and Monday after school and Friday evenings at Fleet-Wood Dancentre School of Dance.     Classes begin in September and end with a celebration recital in June.   Summer Dance Camp is also a perfect opportunity to try your child in dance.   Collingwood's first School of Dance opened in 1994 and has continued to lead with a variety of classes for children including ballet, jazz, tap, modern, hip hop, and acro
When the music plays and your child just has to move or sing to the music, you probably have a dancer.  If your child loves to put on mini performances in your living room, you probably have a dancer.    And if your child is a dancer it can evolve into a lifetime passion full of advantages.   These advantages include the benefits of physical activity, friendships and a happy place to unwind.   Mastering a new dance step builds confidence and especially shy children let the music take them away and they learn and succeed.
I've been a teacher of dance for over fifty years, and I never get tired of watching young people grow, gain confidence and enjoy their time in class.  Watching their progress from September start to June performance is always amazing and gratifying.